Home - G-Products - Online Store - Links - About - Contact - G-Blog
Project-G Windblocker (NA)
90-97 Mazda Miata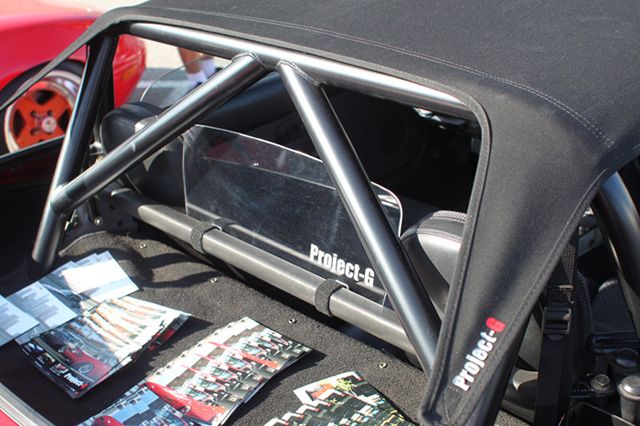 Windblocker by Project-G - $40 Sale Price ($52 MSRP)
Our windblocker actually works wonderfully with our G-String Premium Bikini Tops. These windblockers keep the heater in at night, and ac during the day. The windblocker helps eliminate the annoying back draft while making the ride more enjoyable. The back draft is caused by a vacuum or low pressure zone that is created when wind flows over the windshield as well as over your head.
This finished piece enhances the look of the car. It's a very elegant way to display a logo or decal as well. Illuminating it is another possibility. Our windblocker affixes on to the factory seatbelt brace, but you may be able to retrofit it onto a harness bar.

• Helps eliminate back draft
• Reduces wind noise
• Keeps comfortable temperatures inside
• Prime decal location
1 - Clear Windblocker
2 - Velcro Straps With Ring
Decals
*This item is for OFFROAD use only. This website intended solely to provide general guidance on matters of interest for the personal use of the Reader of this Page, who accepts full responsibility for its use. All
products as well as information provided "as is," with no guarantee of completeness, accuracy, or timeliness, and without warranty of any kind, express or implied, including, but not limited to, the warranties of performance, merchantability, and fitness for a particular purpose.