Home - G-Products - Online Store - Links - About - Contact - G-Blog
Side G-Fusers (NA) Standard (NON FLARED)
90-97 Mazda Miata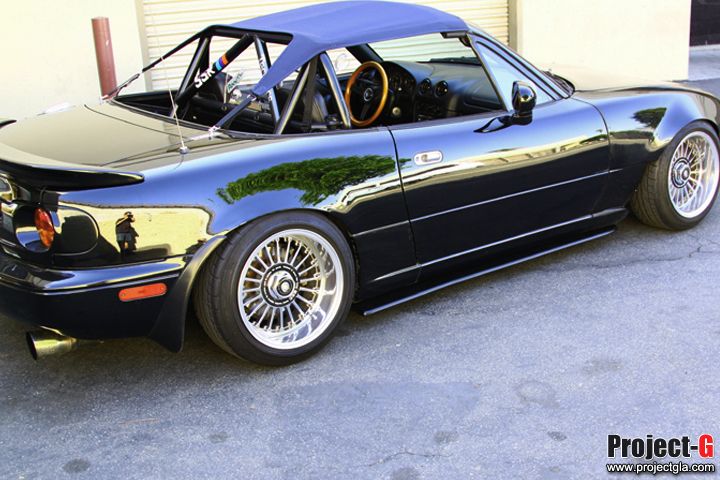 Side G-Fuser for NA Standard (NON FLARED) - $340 Sale Price ($425 MSRP)
(This is the NON FLARED Design of Side G-Fusers)

Application:
Mazda Miata 90-97
Description:
The Side G-Fusers Standard for NA have a unique design that compliment
lines of the Miata (NA). It will provide a look that compliments wheels more aggressive than stock.

Project-G has chosen a high impact and abrasion resistant plastic composite for
the Side G-Fusers, much more durable than fiberglass or even ABS plastic, to
withstand the tortures of everyday driving. Being subjected to the common
everyday road hazards. Many different material options were researched and
tested before deciding on the final material used. The mounting system consists
of a unique bracket system which attaches inboard of the factory pinch weld. This
allows the removal of the G-Fuser without leaving any visible traces they were
ever installed from the exterior view.
Contents:
2 - Standard Side G-Fusers for NA (Non-Flared Style)
6 - Metal Brackets w/ Mounting Hardware
*This item is for OFFROAD use only. This website intended solely to provide general guidance on matters of interest for the personal use of the Reader of this Page, who accepts full responsibility for its use. All
products as well as information provided "as is," with no guarantee of completeness, accuracy, or timeliness, and without warranty of any kind, express or implied, including, but not limited to, the warranties of performance, merchantability, and fitness for a particular purpose.