Home - G-Products - Online Store - Links - About - Contact - G-Blog
G-String Original Bikini Top(NA/NB)
90-05 Mazda Miata
Patent No. D665,722
We are bringing Sexy to the ordinary Bikini Top.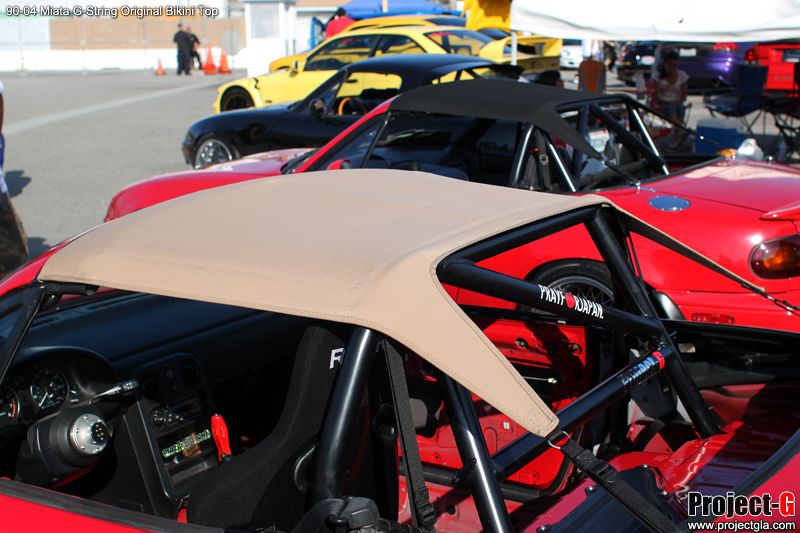 Keep the heat in at night, keep the ac in during the day!

YOU CAN GO TOP DOWN IN SECONDS AND
THROW YOUR G-STRING IN THE TRUNK!
(Carry case available as well)

G-String Bikini Top Patent No. D665,722


Starting at $345

INTERNATIONAL CUSTOMERS JUST SELECT THE EMS SHIPPING,
FOR EXPRESS MAIL THROUGH THE US MAIL SERVICE.


---

The G-String top is made of Haartz German Cabrio Grain Vinyl. This is the same material as the OEM Soft Top, and also what Robbins Auto Tops uses for their Miata Replacement Tops. They will be professionally sewn and stitched to ensure the highest quality product. All fastening points are either reinforced internally or use metal, welded D-Rings.

(Each car & Rollbar Setup will vary, so you will provide us with
measurements before ordering)

Works with all NA & NB Miata's

No Front Bow?
Contact Us! We might have one for you!


Bikini Buckles - $30
Bikini Bag - $30

(ADD BOTH FOR $55 + FREE SHIPPING w/ Kit Order)
G-String Gallery

Closeups
Some quick and important tips:

NEVER use ammonia based cleaners as it will bleach the thread and possibly the top as well if you have Stayfast.

NEVER operate the vehicle with the G-String on the car without first having it CORRECTLY mounted, fitted, and installed.

NEVER place heavy objects on the G-String. It is designed as a sun-shade, not a roof replacement.

NEVER roll the G-String around the front bow so tightly that it starts to stretch the material. It can permanently stretch the material and leave stretched areas.

NEVER store the G-String wet or damp. It can cause mold and mildew to form. We have tested the tops on our personal vehicles up to 65 mph without incident.
So please use common sense.
*This item is for OFFROAD use only. This website intended solely to provide general guidance on matters of interest for the personal use of the Reader of this Page, who accepts full responsibility for its use. All products as well as information provided "as is," with no guarantee of completeness, accuracy, or timeliness, and without warranty of any kind, express or implied, including, but not limited to, the warranties of performance, merchantability, and fitness for a particular purpose.